Anna Królikiewicz
Maciej Nowak
The Wedding
is one of the most frequently played pieces of the Polish repertoire, drastically describing Polish complexes. The paradox is that the author, while describing the wedding reception, did not even mention how the wedding table looked like. Yet, rustic weddings are, in the culinary terms, up to this day a great theatrum culinae – the show of social aspirations, the hope for a better life. Anna Królikiewicz (contemporary artist, author of installations, painter) and Maciej Nowak (journalist, theatrologist, theatre and food critic) will take up the challenge of reconstructing this gastronomic universe.
Theatre in Poland is of particular importance. Since 250 years ago King Stanislaus Augustus appointed His Majesty's National Actors group, Poles have considered theatre as a public institution influencing social and national awareness. As Americans await the Great Novel that will describe their fate, so that the Poles look out for the Great Dramas. And they have had some.
The very artefact will aim at reconstructing multi-sensory experience on all levels: before we feel the taste, and more specifically according to research on human physiology, colour instead of taste, the wafting steam, shine, texture, smell, touch are a vanguard thanks to which we study the reality. Apart from synaesthesia, the key to the installation is the key to the survival of Polish household in the countrywide at the turn of the 19th and 20th century: fermentation, drying and smoking.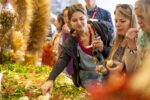 fot. Markéta Bendová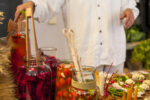 fot. Markéta Bendová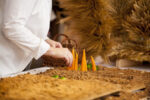 fot. Markéta Bendová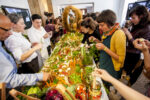 fot. Markéta Bendová