Author of the oryginal instalation in Warsaw:
Julita Wójcik

Author of an object for PQ:
Jakub Drzastwa

Story:
Marcin Wziontek
The Rainbow (Tęcza) is an artistic installation designed by Polish artist Julita Wójcik and is made up of more than 16 thousand artificial flowers. The Rainbow had to be apolitical but became the centerpiece of a nationwide discussion. — fine artist Author of the Rainbow Installation. Winner of the Polityka Passport Award for Visual Arts in 2012 for this installation piece, which was first presented in front the EU Parliament in Brussels over the course of the Polish EU Presidency in 2011.
Marcin Wziontek photographed a demonstration of nationalists during the celebration of the National Independence Day on November 11, 2013. – Suddenly I said: "You know what, come on, the Rainbow will probably be burned down." So we headed towards Plac Zbawiciela.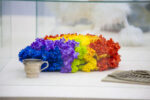 fot. Markéta Bendová
fot. Markéta Bendová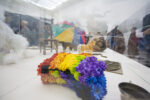 fot. Markéta Bendová