Author of the Exhibition: Ksenia Makała

Exhibition Supervisor: Marek Chowaniec

Curatorial Team: Marek Chowaniec, Jarosław Cymerman, Krystyna Mogilnicka, Anna Rudek-Śmiechowska

Producer: Zbigniew Raszewski Theatre Institute

Project Production: Karolina Dziełak-Żakowska, Krystyna Mogilnicka
After the outbreak of the full-scale aggression against Ukraine, new awareness of threats and lack of control became dominant aspects also in Poles' lives.
The ASYLUM project is an attempt to create a safe space: the roof functions as a shelter which spreads over pedestrians, it provides shade, protects against rain, and interacts with external weather conditions. It can change with the wind, and gain transparency by catching the sun's rays. It also forms a contrasting and unexpected shape within the existing architectural environment.
Eating meals together, either in a hurry or with time to spare, is a part of the reality for people coming from Ukraine to temporary places of stay in Poland.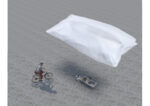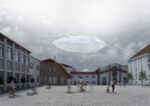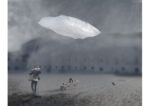 Ksenia Makała
student of the Academy of Fine Arts in Katowice, graduate of the Faculty of Architecture of the Silesian University of Technology. Ksenia creates the projects in the field of architecture, interior design, scenography and interdisciplinary activities. She is interested in space and relations within it, as well as the impact of urban agglomerations on an individual and their well-being. She is the author of the winning realization in the Competition for an art object in the Polish-German Gardens in Warsaw and a finalist of the aWAKen International Scenic Design Competition.